Frequently Asked Question & Answers for the Modern Warrior
You have questions and we have answers.  Here you will find answers to the most commonly asked questions about our products and services. If you can't find a clear answer for what you're looking for, please feel free to contact us by e-mail or by phone, and one of our knowledgeable Customer Service Associates will be more than happy to help you.

Please note that our normal business hours are from 8 am to 5pm (UTC-5), Monday to Friday (Closed for lunch). We are a small office and receive a lot of calls. If we don't answer during these hours, please leave a message or try again later. Our clients are important to us and we aim to give each our full attention.

If you prefer, you may complete the Contact Information Form, below the FAQ's. We will contact you as soon as possible. Please try to be as descriptive and as clear as possible.

Not sure about a word or term used on this site? Check out our comprehensive Glossary Page for assistance!
This trailer will give you a sample of what Iron Mountain Armory's samurai armor is able to do:
ARMOR INFORMATION
What are the differences between the different armor classes?
All of our armor is crafted in the traditional iron armor plating (lames) fashion. We offer our armor in three different quality classes to help fit the needs and budget of our clients:

Kachi (Foot Soldier):
Economically handmade with some attention to detail. We use modern materials and techniques to create quality armor at a great price. Perfect for the samurai on a budget or those looking for an inexpensive costume for their next big event.



Crafting Time: 15 to 20 Days


Materials Used: Bowl-style kabuto, steel construction, hemp, brocade, cotton, nylon, minimal fittings, faux leather and faux hair.  (materials may differ depending on model)


Our "Kachi Class" armor was known as "munition quality armor" and is our basic entry-level model. This style was typically loaned by the Daimyo to low ranking samurai or ashigaru while on a military campaign. Iron Mountain Armory offers it in response to many of our clients who want to own a suit of Samurai armor but at a more economical price. This class is crafted using more simplistic, modern materials, techniques and tools. The Kachi suit come standard with basic shoulder support, non-removable nose, faux fur mustache, faux leather, nylon lacing, hemp material, simulated chain mail, basic rivets. Depending on the model certain features can be added at an extra fee, such as padded shoulders, brass fittings, riveting and art silk.

The Kachi class features a basic but still traditional Gendai design.  As noted some features are more basic, more modern material, tools and techniques are used to make this yoroi more economical, however, adjustments can be made, most parts can be upgraded or replaced over time to achieve a Gashira level quality of armor set. Because the armor is made quickly, and with less attention to detail, there may be slight blemishes or defects in the paint, lacing, stitching or other details. For a higher quality suit with good attention to these details, we recommend upgrading to a Gashira class samurai armor set if your budget allows.
Gashira (Officer):
Expertly handmade with quality materials and good attention to detail.


Crafting Time: 25 to 35 Days.


Materials Used: Bowl style kabuto, steel construction, traditional brocade, hemp, quality cotton, brass, copper fittings with genuine leather & and some synthetic materials might be used. (materials may differ depending on model)


Our "Gashira Class" yoroi are the next step up from our "Kachi Class." Each suit is handcrafted by our experienced katchû-shi (armor smith) at the Iron Mountain Armory. Our craftsman will use quality materials and traditional crafting methods with some modern techniques, tools and advancements in design. Much like the Taisho Class, each suit has been heavily researched, and a lot of care is put into their historical accuracy. The principle difference between the Gashira-class and Taisho-class, is that the Gashira Class is crafted with the practical bowl-style kabuto (simulated laminate) and some other machine stamped parts. Gashira class also feature some small modern design enhancements (like adding grommets and spot welding) to make the armor more robust and easier to main. Our Gashira Class samurai armor is made specifically for collectors, exhibitions, re-enactors and martial artists, who want an authentic "Gendai" samurai suit of armor without the added expenses of the more traditional design and hand crafting methods found in our Taisho class.

The Gashira class features a more traditional Gendai design over kachi class and include features such as, real animal hair, genuine leather, removable or interchangeable nose, brass fittings, shoulder padding with kikko (armor plating), traditional butted mail, opposable thumbs, leg / waist support on haidate, extra materials, fittings, riveting, grommets, extra lacing options and included armor storage / display box (yoroi bitsu) with stand. The attention to detail is a big step up from Kachi class, however, due to handcrafting of many parts there might be some blemishes that pass through our QC process. Although we work to avoid and fix blemishes / issues, through the QC process, they are a natural occurrence of handcrafting. Taisho class suits will have fewer (if any) of these blemishes that occur due to high standards and level of detail when crafting and review.
Taisho (Commander Class) Armors:
These suits are masterfully handmade, from high-quality, traditional materials, with high attention to detail and historical accuracy.



Average Crafting Time: 45 to 60 Days.


Materials Used: Laminated style kabuto, high quality steel, traditional brocades, hemp, quality cotton, art silk, brass & copper fittings with genuine leather. (materials may differ depending on model)

Our "Taisho Class" Armor is the next step up from our "Gashira Class" and since 2018, were only sold in Japan. Each suit is meticulously handcrafted by our most experienced katchû-shi (armor smith) here at Iron Mountain Armory. We use the highest quality materials and most traditional methods possible. Each piece has been faithfully replicated from antique samurai armor purchased by Iron Mountain Armory. We do this to ensure they are as accurate and detailed to the originals in every way. Each plate is cut, shaped, smoothed, cleaned and riveted or laced by hand. The least amount of machine work is used. This class of samurai armor is made specifically for private collectors, museums, movies, historical re-enactors, martial artists and those who demand the highest detail and quality.

The Taisho class features a more traditional design over the "Gashira Class" which can only be accomplished with handcrafting. Some other features include laminated kabuto (helmet is made up of 5 or more plates handcrafted and assembled), art silk lacing, more detailed fittings, higher quality materials and the highest level of attention to detail and quality. Because the armor is crafted by hand there might be some small natural blemishes, however our QC review is more strict then Gashira resulting fewer (if any) issues.
Daimyo (Lord Class) Armors:
These suits are masterfully crafted from traditional Edo designs. Made from a mixture of both high-quality traditional and modern materials to make a luxuries samurai armor set.



Average Crafting Time: 60 to 95 Days.


Materials Used: Bowl or laminated style kabuto, high quality steel, traditional brocades, hemp, quality cotton, art silk, brass & copper alloy fittings with genuine leather. (materials may differ depending on model)

Our "Daimyo Class" Our masterwork Daimyo Class Armors are traditional Edo Era design, crafted to be beautiful works of art and until recently where only sold in Japan. In the Edo Period, the Daimyo spent much of their wealth on embellishing their armor sets, making it more decorative and less functional.

Our Daimyo Class series suits, although fully functional, focus more on beauty then battle readiness. We use a mixture of traditional and modern luxury materials to help add an unmatched "regalness" to these striking artisan armors.
Is your armor historically accurate?
We craft our armor in a design matching that of the Edo era, using traditional crafting style of katchû-shi (Japanese armorer) from post Meiji era, called "Gendai" (?? modern, post 1860). Many of our models are reproductions based on Tosei Do (tosei meaning modern, or post ~1520).  The Tosei gusoku were made from single steel plates known as "ita-mono", often made to resemble individual kozane (scales) used in earlier designs.  Tosei-gusoku became more prominent starting in the mid-1500's due to the European influence. This brought modern production techniques, and an introduction of new materials and fire arms – which changed fighting tactics and the need for additional protection.
Iron Mountain Armory does, depending on class / quality level, use some more modern techniques when crafting their armor. Kachi and Gashira class armor use spot-welding, modern paint and brocades (consistent with most Gendai crafted armor). Taisho class armor uses little to no spot-welding. This is done to keep some costs down, and because to repair a broken rivet or urushi can be difficult and quite expensive. There are no longer people working in urushi and armor repair in most local villages these days. Instead of natural urushi we currently offer the more economical and environmentally friendly powder coating options. We do plan to start offering the option of using urushi in 2021.
Please note that the Kachi is our most economical class. Due to the use of synthetic material any many modern crafting techniques, we do not consider these models to be historical accurate. Taisho class is considered to be the most historically accurate in terms of crafting and design, with Gashira Class falling in the middle.
Is your clothing and accessory items historically accurate?
Iron Mountain Armory is very meticulous in researching all of the details from originals, as well as working with professional restorers, authors and collectors, when reproducing original items to make certain we reproduce our items as historically accurate as possible.  We do our best to source, match and use original materials as well as the original methods of crafting.  In some instances materials or methods are no longer available, permitted or economical to use, so we do our best to use the next best material and/or method.  For example the use of urushi is toxic for the crafter, less sustainable for the environment, more costly and very difficult to repair (as there are only a small community of artisans of urushi).
If you prefer an item to be more historically accurate, such as 100% hand stitching, real silk instead of artificial silk, or other special requests, please contact us with your request.  We will do everything we can to help meet your request and if there is an additional cost, we can quote you.
What is the main difference between your Gendai armor and the armor crafted back in the 16th and 17th century?
In general, armor that was crafted in the 15th century was crafted from thin (.5 ~ .8 mm), low carbon steel, which some would call iron.  This earlier armor was crafted with small scale like plates carefully laced together to make it flexible, so much that it would actually wrap around the warrior.  This is called kozane, or true scale. These plates where lacquered in urushi, which is basically a natural lacquer made from a special Asian tree. Once lacquered, the kozane would then be carefully laced together using silk odoshi, using a lacing style called kebiki-odoshi (also referred to as "full lacing").  Other materials, such as deer hide, sinew, clay, asa and other natural materials were also available in these times.
In the 16th century production of samurai changed and became known as "tosei" which is means 'modern" or post 1500.  At this time the armor started to be crafted with "ita-mono", which are single solid plate strips that would boast a more robust plate armor that resembles more of the solid European armor plating.  In some instances the katchû-shi (Japanese armorer) would use clay or other similar materials to create simulated kozan onto the ita-mono, which became known as "kiritsuke" or simulated kozane.  During this time, the steel quality improved and the plating became thicker.  This likely came about due to European influence.  This influence brought modern production techniques, new materials and fire arms, which changed fighting tactics and increased the need for additional protection.
Today many of the traditional crafting techniques and materials are not practical for modern armor making or design. Due to a time, environmental and financial standpoint.  For example, a single suit of armor from the Muromachi era may have taken more than 6 months to finish crafting. The painting of the urushi is a long process, a very difficult skill to master and dependent on humidity / temperatures. Urushi is also toxic and can kill many trees when harvesting it. There are only a few people alive today that make armor that is 100% authentic and traditional in its crafting.
With this being explained, the principal differences between our reproduction armor and the armor of the 15th and 16th century, is that Iron Mountain Armory reproductions are traditional in crafting or design matching that of the katchû-shi (Japanese armorer) from the Edo era or more specifically "Gendai" (modern, post 1660). What this means, is that armor of this era was more practical and economical in terms of having more modern textiles and paints used.  We do no use urushi or silk odoshi. We use modern paint and high quality cotton or synthetic lacing (depending on class) which closely resembles silk in both appearance and strength.  Instead of natural dyes made from plants to color our lacing and materials, we use modern dyes.  Instead of deer or horse hide, we will generally use cow, goat or pig hide.  Depending on the quality level of armor, we may use some modern stamping machines, to create plating, patterns or armor parts.  Some reasons are due to costs, others due to environmental laws and others for practicality.  The result is a suit of armor that looks and feels very much like the original, but at 1/50th of the time / cost of that original and our suit is virtually maintenance free.
Iron Mountain Armory can craft hon-kozane (true scale) armor, very similar to that of the 15th century or Muromachi and Sengoku era. We are truly only limited by the budget of our clients.
What are the different parts of the armor?
There are many parts of a Suit of Samurai Armor, and each has their own unique name.
As a result of the attention to detail we use with our products, we often refer to the parts of our Samurai Armor with their original Japanese names. We appreciate that this can be difficult, but ultimately it helps to avoid confusion. Below is a detailed image highlighting all of the parts of a suit of Samurai Armor, with the Japanese names translated to English form.  The pronunciation is with Latin sounds.  For a full list of Glossary Terms, please click here.
Is the armor real or for display only?
Yes, our Samurai Armor are all very real and also look great on display!
Do you rent armor?
Yes, indeed we rent Samurai Armor!
Please contact us for the specifics. Our Samurai Armor Rental standards are quite basic. (Can vary depending on model and accessories):
Our rentals require a security deposit equal to their purchase price.
The basic rental fee starts at $450 for the first 4 days and $50 for each additional day (depending on model).
Upon the return of the armor, the rental fee will be deducted from the security deposit, along with any damages and/or missing items.
We only accept deposits via cash, check or PayPal. Security deposits are refunded via the same means.
Please contact us for more details and availability. Be sure to let us know what item(s) you are interested in renting, date(s) you need them and the shipping address you require it to be sent to.
I see Iron Mountain samurai armor on auction sites selling for less money: WHY?
Iron Mountain Armory has a MAP (Minimum Advertised Price) of 15% off the normal retail price (posted on this website). If you see pictures of Iron Mountain Armory products being sold for less than MAP, the seller is probably not selling authentic armor or is reselling pre-owned items. There are only a few manufacturer's representatives for the Iron Mountain Armory products. They are located in the The United States, The United Kingdom, Japan, Switzerland, Germany, The Philippines, Australia and Colombia. Anyone selling our armor from China, especially those who claim to be the "factory" are selling imitation armor and you will get what you pay for… or less. Feel free to e-mail us or contact the Iron Mountain Armory directly (www.IronMountainArmory.com) to ask if the armor is real or the seller is authorized. We are happy to send you eBay armor pictures sent to us from upset buyers. This way you can compare the quality between our products and the cheaper imitations.
If you see pictures of our armors being offered by a company in China or Hong Kong it is a knock off, much like the $2,000 Prada bag on sale for $180. There are websites and sellers like "lastarmor", "zbinstore9", "liren88", "mensarmor" and others who have stolen and are using the Iron Mountain Armory's photographs and texts to sell their own cheap imitation products. Please don't be fooled, these are imitation suits. These auctioneers also do not include the armor box, stand or inner materials or lining, etc.  They will offer a full refund upon return of the item, because they also know it will cost $500 to ship the item back to them.

Iron Mountain Armory and Little Star Enterprises HAVE NO RELATIONSHIP with any Chinese seller and we are not responsible for any claims, loss, damage and whatever happens by their unauthorized copies. Iron Mountain Armory DOES NOT sell (retail or wholesale) to anyone except their authorized dealers.
CUSTOMIZATIONS
Will this armor fit me?
Each suit or piece of armor is designed and crafted to fit your "average" adult male.
Our armors are made to fit an adult male of 5? 7? (170 cm) and 170 lbs (77 kg) with a 40.5? (103 cm) chest. Our standard armors fit most adults between 5? 5? and 5? 10? tall, with no customization needed for height. The armor can also be adjusted to fit between a 39? ~ 43? chest size, by simply removing the pin hinge and replacing them with laces.  This might leave a small gap under the armpits between the front and back plates.
Do you offer any customizations?
Yes, each item is hand crafted by us. We can definitely offer custom sizing and alterations which is reflected on the product page.
Reference the product of interest for customization and options. Please contact us for more details or special requests.
Will my armor be perfect?
We do not believe perfect is possible, but it doesn't stop us from trying!  
Each class of armor, accessory and clothing we make at the Iron Mountain Armory will always have a chance of some blemish or imperfection due to human or material error.  This is something simply unavoidable but is checked for. The more basic the armor class the more oversight we allow and less oversight is allowed for Taisho craft.

It is important to keep in mind that our armor is hand-crafted with attention and care to detail, NOT assembled on a machine assembly line. Some colors, details, sizing might not be exact: for example, a hole might be a little out of line or spaced a little different.  Paint tint might vary slightly. Because we don't make all of our own materials patterns and textures might change over time. These are all part of our Quality Control Checks, but we need to leave some space for small oversight so you (the client) aren't waiting months for your order and then paying four times the price.

With Taisho and Daimyo Class Armor, the higher price and longer wait will ensure your armor is as close to perfect as possible. However, if you look hard enough you will always find a few small issues, even with our highest quality samurai armors, samurai clothing and accessories.
Will my custom-sized armor fit me perfectly?
Most of our clients will say their custom fitted armor fits them great.  However everyone has their own personal preference of how armor should fit.
We will craft your samurai armor to fit you to the best of our ability. It is important to remember that all people are different shapes, builds, sizes and may prefer items to fit them differently. Two people may be the same size chest but the same shirt might fit differently. The sizes you provide in your order are used by our Katchû-shi (armor smith) for reference when crafting your armor.  They will look at all your sizes and do their best to craft the armor to fit you properly. This is also because certain plates are crafted to a certain height and width, so sometimes client sizes might fall within these dimensions and have a difference of 3cm. Although most of our clients state that their custom armor fits them very well, we can not guarantee exact sizing or fitting.
I want to build and paint my own armor, do you sell unfinished or parts of the armor only?
We do sell samurai, DIY, armor parts and accessories so you can craft your samurai yoroi piece by piece.  We do not offer unfinished or individual plates directly on our Website at this time.
Can you add "mon", logos or symbols to my armor?
Yes, when ever possible we add this option to specific product that you can request while customizing your armor.  Please note that we might be limited in the amount of detail we can add, especially if the symbols are small. This mostly refers to fine lines and details within the symbol. Any custom symbols should be sent to us via email before placing your order to ensure we can make them and you can reply to your emailed order confirmation with the symbol, so we may properly attach it to your order.
Can you custom-make other armors?
Yes, we can!
Our skilled craftsmen are able to make a wide variety of armor from all across Asia. Please feel free to e-mail us any pictures, links and/or details of the armor you would like to have replicated for a free estimate!
SHIPPING
How long until my order is delivered?
All product descriptions will tell you the typical crafting time for any particular product.  If you order several products, the longest crafting time should be your reference for time needed to prepare your full order.  Please know we process orders on a first come first serve basis, and all orders are scheduled for crafting accordingly. Because of this, as well as material back-orders, your order might be delayed.

We are a small group of artisans and workers and can sometimes be overwhelmed with orders. We will always do our best to keep you well informed of your order status.

IF you need your order by a specific date, please contact us BEFORE placing your order.
Where are you items shipped from?
We work with crafters around the world with the majority of our items crafted in China.  Depending on the shipping service you request we may ship directly from one of our artisan crafters or have your order combined with others and then shipped to a warehouse in the USA, Europe or South America, then forward to you.  We do this to try and keep the shipping costs most economical as possible as well as helping to protect our environment from excessive transport and fuel being used.
Do you ship Internationally? If yes, how much is shipping to my country? How can I pay?
Yes, we ship worldwide and most orders armory direct via FedEx or Airmail Service!
Because we ship factory direct, VAT is not charged by most countries however local tax might be charged. For detailed shipping costs, please add the items you wish to purchase to your shopping cart, click the "Calculate shipping" button on the right side of the cart, then enter the requested details. You will be provided with shipping options and costs for the items in your cart. You may then add or remove items or quantity and then proceed through the remainder of the checkout process.  There are several different payment options to select from.
What is your returns policy?
WEARING & DISPLAY
How do I put on samurai armor?
While samurai armor is modular, there is an "official" way to don the armor properly. Provided below is an image depicting how to do this, taken from a trusted historical source.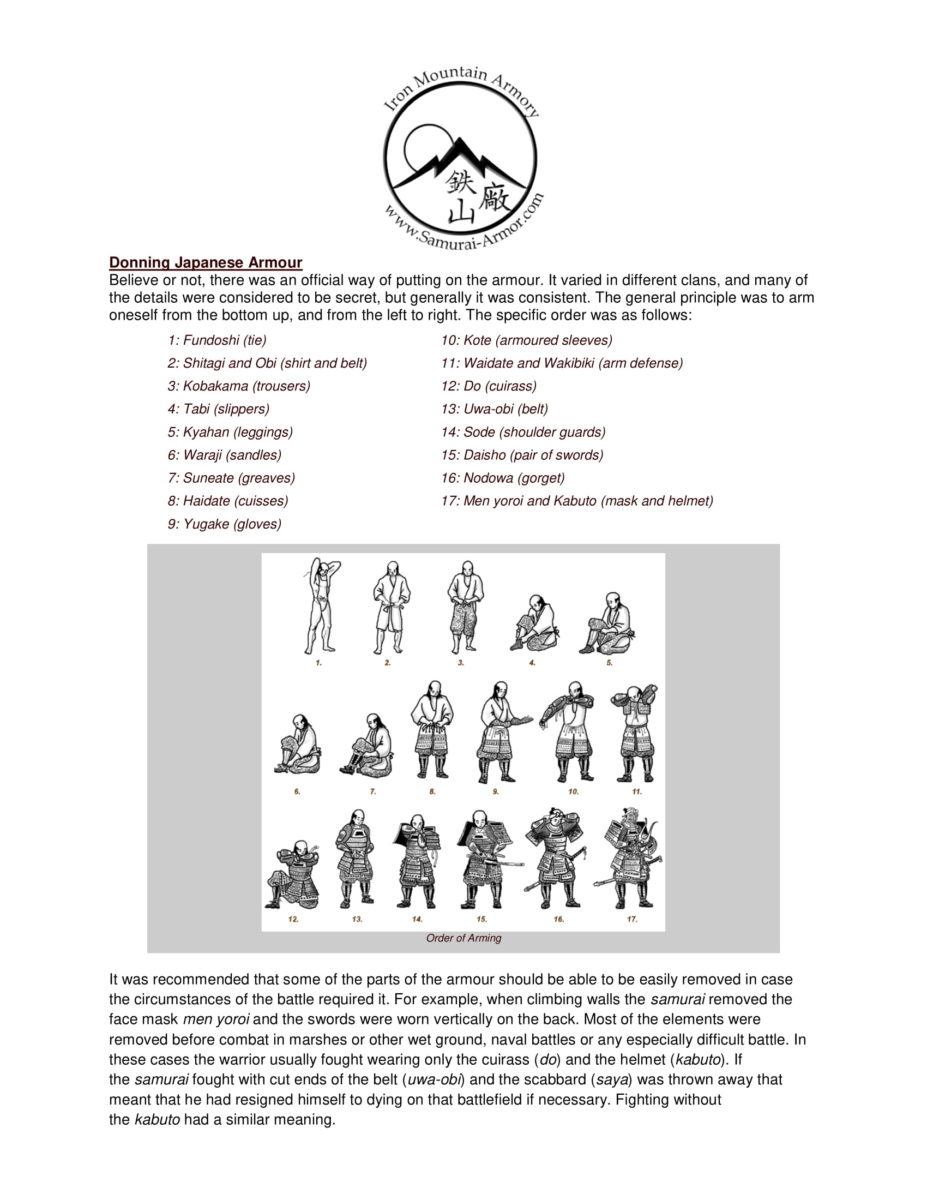 How do I display samurai armor correctly?
Samurai Armor can be properly and impressively displayed on top of a Yoroi Bitsu. This storage box and display case comes free with Gashira, Taisho and Daimyo Suits. They can also be ordered for a small extra fee with Kachi Suits, or can be bought separately. Each Yoroi Bitsu comes with a wooden stand for the purpose of displaying armor. Below we have provided instructions how you can do this yourself – and show off your yoroi proudly just like a real samurai would have!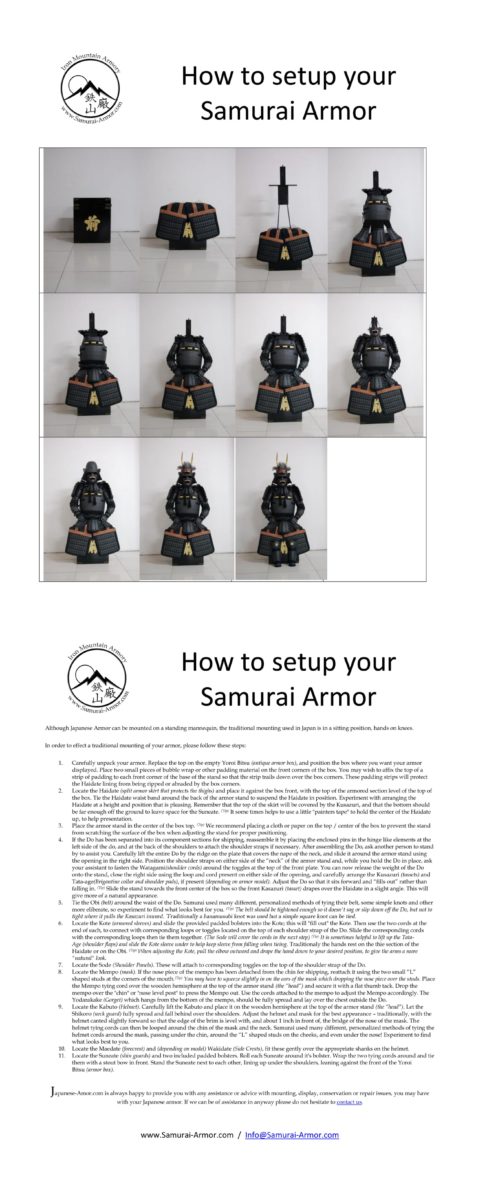 Do you have further questions? If so, feel free to contact us using the form below, and one of our friendly staff will respond to you as soon as possible. We look forward to hearing from you!
(Please note that we are a small, family run company. Our office hours are 10am to 4pm est, Monday to Friday.)