Listed below are the major differences between our Kachi and Gashira Class Gendai Samurai Armor crafted by Iron Mountain Armory. This is followed by comparisons between our Gashira and Taisho Class armor pieces.
Please review all the details below and contact us if you have any questions or concerns.
Kachi Class VS Gashira Class
Gashira Class VS Taisho Class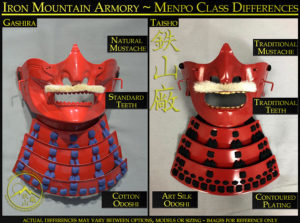 MUSTACHES: Gashira mustache's are made from a strip of hair glued to the menpo. Taisho mustaches are made from pieces of hair glued together and then to the menpo piece by piece to ensure the best detail and longevity. This is also a more traditional Japanese method.

TEETH: Gashira menpo have standard teeth made from steel. These are often painted the color of the menpo.  Taisho have more traditional teeth that can be left natural or painted.
PLATE STYLE:  Gashira class has hanging tare (throat plates) which are flat steel plates. They are machine pressed to curve, matching your throat contour.  Taisho tare plates are hand hammered and feature a bow curve with a full beveled edge to better match the natural throat contour and are a more traditional design.

LACING: Gashira tare are made with high quality cotton odoshi, while the Taisho tare is made with art. silk odoshi.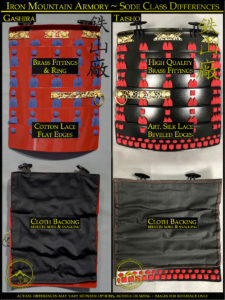 BRASS FITTINGS: Both Gashira and Taisho Sode have decorative brass fittings and rings, but the fittings on Taisho Sode are much higher quality and feature better detail work.

CRAFTING: The Gashira sode have flat strips of steel that are machine pressed creating a basic curve to contour your arm.  The Taisho sode are hand hammered and feature a bow curve with traditional bevel edging.

CLOTH BACKING: Gashira Sode and Taisho Sode are both backed with cloth, which strengthen the shoulder plates, as well as protecting other parts of the armor from scratches.

LACING: Gashira Armor's are made with high quality cotton odoshi. Taisho Class Armor is made with art. silk odoshi instead.

EDGING: The edge of the plates of Taisho Sode are bevelled. Gashira Sode plates are straight and flat.
ARMOR PLATES: The armor plates and chainmail of Taisho haidate are much higher quality and have more sophisticated details than those on Gashira haidate.

BELT LOOP: Gashira haidate have standard belt loops in the front. Taisho haidate have these same loops, but they also feature a "Hikiagewana" with "Sosaru-Gawa" which can be attached to the do (chest) in order to prevent the haidate from sagging.

Material: The Gashira haidate use standard brocade materials and leather, while Taisho haidate feature high quality egawa leather and beautiful brocades embossed with Clan Symbols.

LEG STRAP: Both Gashira and Taisho Haidate feature extra straps on the back section of each leg. This helps to secure them better to the wearer's leg.