Little Star Enterprises, Inc. was formed in June 2001 with a mission to provide the most authentically-crafted, reproduction Samurai Armor, swords, accessories and clothing with traditional customer service, at the best possible price. We are dedicated in keeping the tradition and culture of the Samurai alive…



 Keeping with tradition…
It is our honor to be part of preserving the art and culture of the Samurai and the armorers of ancient Japan. We take great pride in our company, our commitment to our products and our clients. As part of our commitment we travel annually to meet with our artisans and armory to share information, new techniques and maintain relationships, to ensure our artisan crafters receive the support they need and our clients receive the quality they deserve.
All of our Gendai Samurai Armor, parts, clothing and accessories are full sized, wearable, historically accurate and combat ready. We always try to show detailed pictures and describe our products in terms which are most generally accepted by the academic community. We offer most reproduction Samurai Armor suits in THREE DIFFERENT CLASSES:
Kachi (Foot Soldier Class)
Kachi (Foot Soldier):
Economically handmade with some attention to detail. We use modern materials and techniques to create quality armor at a great price. Perfect for the samurai on a budget or those looking for an inexpensive costume for their next big event.



Crafting Time: 15 to 20 Days


Materials Used: Bowl-style kabuto, steel construction, hemp, brocade, cotton, nylon, minimal fittings, faux leather and faux hair.  (materials may differ depending on model)


Our "Kachi Class" armor was known as "munition quality armor" and is our basic entry-level model. This style was typically loaned by the Daimyo to low ranking samurai or ashigaru while on a military campaign. Iron Mountain Armory offers it in response to many of our clients who want to own a suit of Samurai armor but at a more economical price. This class is crafted using more simplistic, modern materials, techniques and tools. The basic design won't come with a removable nose, some brass fittings and some riveting. It also comes without the padding under the shoulders and back which typically functions to make the armor more comfortable and provide added protection. This padding can be ordered separately and added at a later time. Because the armor is made quickly, there may be slight blemishes in the paint and lacing.

The Kachi class features a basic but still traditional Gendai design.  Modern material, tools, techniques are used to make this yoroi more economical.
Gashira (Officer Class)
Gashira (Officer):
Expertly handmade with quality materials and good attention to detail.


Crafting Time: 25 to 35 Days.


Materials Used: Bowl style kabuto, steel construction, traditional brocade, hemp, quality cotton, brass, copper fittings with genuine leather & and some synthetic materials might be used. (materials may differ depending on model)


Our "Gashira Class" yoroi are the next step up from our "Kachi Class." Each suit is handcrafted by our experienced katchû-shi (armor smith) at the Iron Mountain Armory. Our craftsman will use quality materials and traditional crafting methods with some modern techniques and tools. Much like the Taisho Class, each suit has been heavily researched, and a lot of care is put into their historical accuracy. The principle difference between the Gashira-class and Taisho-class, is that the Gashira Class is crafted with the practical bowl-style kabuto (simulated laminate) and some other machine stamped parts. Our Gashira Class samurai armor is made specifically for collectors, exhibitions, re-enactors and martial artists, who want an authentic "Gendai" samurai suit of armor without the added expenses of the more traditional design and hand crafting methods found in our Taisho class.

The Gashira class features a more traditional Gendai design over kachi class and include features such as, real animal hair, genuine leather, removable or interchangeable nose, brass fittings, shoulder padding with kikko (armor plating), butted mail, opposable thumbs, leg / waist support on haidate, extra materials, fittings, riveting, extra lacing options and included armor storage / display box (yoroi bitsu) with stand.
Taisho (Commander Class)
Taisho (Commander Class) Armors:
These suits are masterfully handmade, from high-quality, traditional materials, with close attention to detail and historical accuracy.



Average Crafting Time: 45 to 60 Days.


Materials Used: Laminated style kabuto, high quality steel, traditional brocades, hemp, quality cotton, art silk, brass & copper fittings with genuine leather. (materials may differ depending on model)

Our "Taisho Class" Armor is the next step up from our "Gashira Class" and until recently, were only sold in Japan. Each suit is meticulously handcrafted by our most experienced katchû-shi (armor smith) here at Iron Mountain Armory. We use the highest quality materials and most traditional methods possible. Each piece has been faithfully replicated from antique samurai armor purchased by Iron Mountain Armory. We do this to ensure they are as accurate and detailed to the originals in every way. Each plate is cut, shaped, smoothed, cleaned and riveted or laced by hand. The least amount of machine work is used. This class of samurai armor is made specifically for private collectors, museums, movies, historical re-enactors, martial artists and those who demand the highest detail and quality.

The Taisho class features a more traditional design over the "Gashira Class" which can only be accomplished with handcrafting. Some other features include laminated kabuto (helmet is made up of 5 or more plates handcrafted and assembled), art silk lacing, more detailed fittings, higher quality materials and the highest level of attention to detail and quality.
The Iron Mountain Armory has been traditionally handcrafting Samurai armor since 2005 and believes in quality over quantity. Therefore, each piece of armor is handcrafted by our skilled kachushi (armorer) at the time of your order. All products handcrafted by Iron Mountain Armory are researched, developed, then battlefield tested and warrior approved. Please view this trailer to see Iron Mountain Armory yoroi and accessories in action: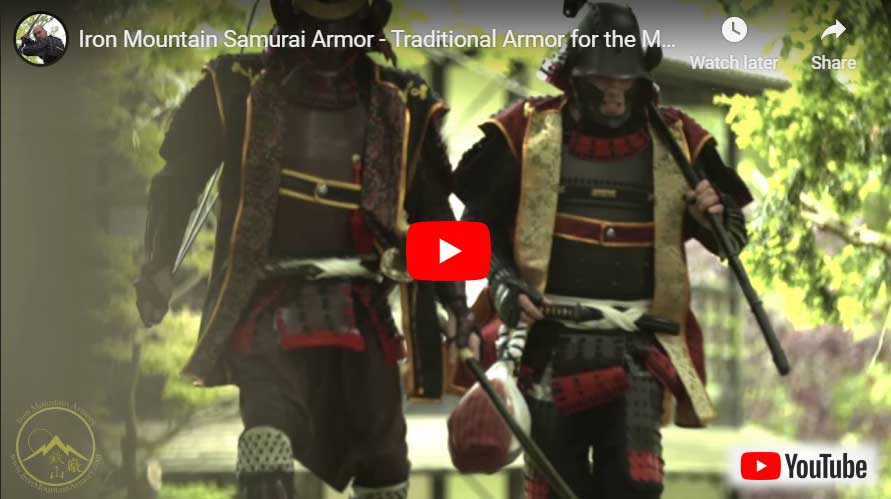 Please be aware that there are low-quality imitation armors being sold through auction sites. These sellers have copied many of our older, and lower resolution, photos in order to sell their products, as well as copying those from other armories. Please do not be fooled by these poorly-made knock-off armors. Unfortunately, you will likely get less than what you pay for.  You can review our blog to see images and read stories about these "factories". If you have any doubts, ask to see more detailed pictures and photos of the crafting process. As you can see from our site, we take all of our own photos and have watermarked them to help stop copyright infringements. Please note that Iron Mountain Armory does not sell direct, we will always refer you to one of our dealers! Please review our FAQ page for more details and images of these armor scams.